This website is designed to hold and maintain issues and photos for the NNMHA newsletter. It will make it easier for those who do not have high speed modems to be able to access photos, rather than having them embedded in our monthly newsletter.
If you are interested in submitting photos from NNMHA sponsored events or events of particular interest to our readership, to be included on this website, contact me, Susan Smith, at 983-2128 or email susith@aol.com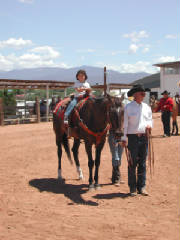 David Howard leading a young rider in the leadline class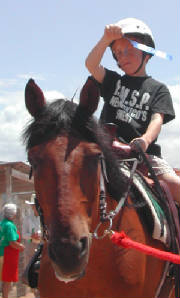 Obie Boon flashing his blue ribbon
In its long history the NNMHA has offered horseback riders of all ages numerous activities including trail rides, horse shows, clinics, monthly newsletter, a practice arena and play days in Northern New Mexico. Last year the organization sponsored the first ever Caja del Rio Endurance Ride, numerous trail rides, and a horse show, all held in Santa Fe. This year we hope to offer even more activities and involve more people in the horse community.