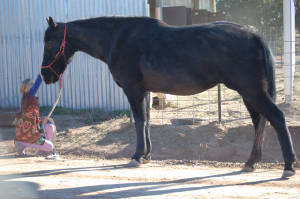 Bea with young friend
Bea is an 18-year-old Tennessee Walker who had a positive 76% EPM diagnosis, a condition caused by a protozoa based virus that attacks the central nervous system. She was showing symptoms of ataxia, which in her body were characterized by leaning against the barn, a wobbly, uncertain gait, intermittent lameness and irregular stance.
I began working with her at the end of October, 2009. At that time, Bea did not want me to touch her head or neck, so I worked on her sacrum and hindquarter area. By the end of the session she had dropped her head, was walking more fluidly.
Bea 11/7/2009
Bea had a tendency to stand strangely, camping out her hind legs and splaying forelegs, particularly the left. She often would lean on me while I was working on her.
For the first six weeks after diagnosis she was on the EPM medication Marquis. After her 11/07 Ortho session, her hind legs were no longer dragging, and the front left was not tipped laterally as often.